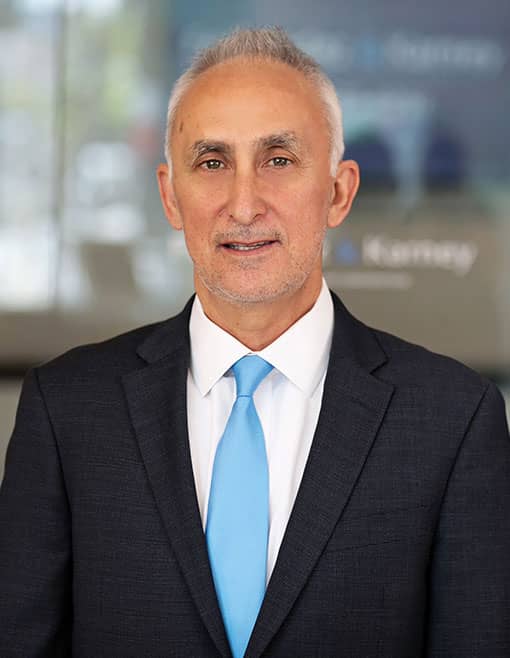 Steven Fernandez, Esq. is a Certified Family Law Specialist* and the principal owner/managing partner of Fernandez & Karney, APLC. He has been practicing law in California as a civil litigator since 1989, devoting his practice exclusively to family law since 2002. Mr. Fernandez represents high-net-worth clients in family law disputes involving divorce, child support, spousal support, the division and allocation of community property and separate property interests in business holdings, real estate, retirement benefits, and other assets. Mr. Fernandez also specializes in enforcing of temporary and permanent orders and judgments.
At Fernandez & Karney, Mr. Fernandez is the senior partner responsible for managing the firm's complex financial litigation department and the discovery department. Mr. Fernandez has volunteered as a pro bono family law mediator and served as a Judge Pro Tem with the Los Angeles County Superior Court. He has guest-lectured on the subject of discovery in family law.
Mr. Fernandez is a 1987 graduate of U.C.L.A. Law School, and a 1984 graduate of U.C. Santa Barbara where he earned his B.A. in English. Mr. Fernandez recently completed the Los Angeles County Bar Association's Trial Advocacy Program in 2015, qualifying him to serve as a pro bono prosecutor with the Los Angeles County City Attorney's Office. Mr. Fernandez grew up in Malibu where he has remained an active member of the Westside community. Mr. Fernandez is an avid baseball fan, and he enjoys long distance running.
Licenses And Certifications
State Bar of California, January 17, 1989
*Certified Family Law Specialist, July 2012
Professional Affiliations
Los Angeles Bar Association
Los Angeles County Bar Association
Association of Certified Family Law Specialists
Family Law Section of the State Bar of California
Westside Professional Group